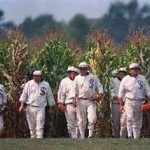 By Tim Hayes
Five of the sweetest words in the world were uttered this past week: Pitchers and catchers have reported.
Ah, Spring Training for Major League Baseball has begun.  We are about to be delivered from this seemingly endless sentence of life on the frozen tundra.  As George Harrison once warbled, "It's been a long, cold, lonely winter…here comes the sun."
And I say, it's all right.  Because baseball is coming back.  And for fans of the Pittsburgh Pirates, this spring training arrives with a special glow.  Our Buccos are winners again, and that sure feels good.
What about baseball affects people, especially guys, at such a deep, fundamental level?  Is it the leisurely pace?  The symmetry of the diamond?  The lush green grass carpet of the outfield?  The mental duel between pitcher and batter?  The majestic arc of a towering home run?
One of my all-time favorite movies, "Field of Dreams," features some quotes that help explain the timeless pull of baseball on our hearts.
"Shoeless Joe" Jackson, after discovering the magic ball park constructed in the middle of an Iowa cornfield, says:
"Man, I did love this game. I'd have played for food money. It was the game. The sounds, the smells. Did you ever hold a ball or a glove to your face? It was the crowd, rising to their feet when the ball was hit deep. I'd wake up at night with the smell of the ballpark in my nose, the cool of the grass on my feet. The thrill of the grass."
Later in the story, author Terrance Mann offers a soliloquy on the game that makes the hairs on the back of my neck stand up every time I watch this film.  As bankers move in to foreclose on the farm, Mann encourages Ray, the owner and builder of the field, to hold out, saying:
"People will come Ray. They'll come to Iowa for reasons they can't even fathom. They'll turn up your driveway not knowing for sure why they're doing it. They'll arrive at your door as innocent as children, longing for the past. Of course, we won't mind if you look around, you'll say. It's only $20 per person. They'll pass over the money without even thinking about it.  For it is money they have, and peace they lack.
"And they'll walk out to the bleachers.  Sit in shirtsleeves on a perfect afternoon. They'll find they have reserved seats somewhere along one of the baselines, where they sat when they were children and cheered their heroes. And they'll watch the game and it'll be as if they dipped themselves in magic waters. The memories will be so thick they'll have to brush them away from their faces.
"People will come Ray. The one constant through all the years, Ray, has been baseball. America has rolled by like an army of steamrollers. It has been erased like a blackboard, rebuilt and erased again. But baseball has marked the time. This field, this game: it's a part of our past, Ray. It reminds of us of all that once was good and it could be again. Oh… people will come Ray. People will most definitely come."
I think I'd like to be one of those people this year.  Time to report to Spring Training.  Baseball's back and winter's going away and all is right with the world again.
Copyright 2014 Tim Hayes Consulting and Transverse Park Productions LLC