Tim has written two books, both available on amazon.com in either paperback or Kindle editions:
"Jackass in a Hailstorm: Adventures in Executive Communication"  Buy here.
"Tim Hayes offers us a book full of leadership wisdom.  Tim's storytelling ability is off the charts! I highly recommend this book to entrepreneurs and people in leadership roles."
– Bob Gambone, Management Consultant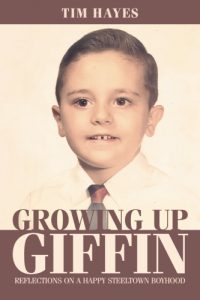 "Growing Up Giffin: Reflections on a Happy Steeltown Boyhood" Buy here.
In the follow-up to his first book, Tim gets personal in this collection of swiftly moving essays on his years growing up during the 1960s and '70s that promise to keep you smiling, thinking, and turning each page to get to the next gem.  ALL PROCEEDS from the sale of this book are donated to The Hilltop Economic Development Corp., an organization dedicated to improving Tim's hometown neighborhood of Mount Oliver Borough.  
"Growing Up Giffin is a tremendously entertaining collection of short essays.  It's an easy read, yet profound in its adult perspective.  Tim's structure and word choice skillfully allow the stories to build, and payoff the humor and other emotions in a satisfying way.  These stories are as touching as they are hilarious.  It's a special talent that can evoke such a range of emotions."
– Joe Eberly, Artistic Director