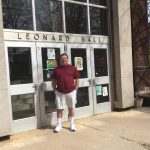 By Tim Hayes
Walking through the storied Oak Grove of Indiana University of Pennsylvania (IUP), my college alma mater, this past week, the inevitable came to pass.
I had known this day would arrive for more than a year, but hoped against hope that it might somehow get postponed indefinitely.  But there it was, plain as day.  The Rubicon had been crossed, and we had reached the point of no return.
One of my favorite buildings, Leonard Hall, had been doomed to demolition.  Cyclone fencing had been put up around the perimeter of the three-story structure, as crews prepared to tear the old girl down.
Now, truth be told, to the untrained eye, Leonard Hall carried no distinguishing architectural wonders.  It had been built back in the 1950s on a Commonwealth of Pennsylvania budget, and functioned for nearly seven decades as a utilitarian site where thousands of undergraduate students worked their way through English classes, with the geography and earth sciences rooms in the basement, appropriately.
But for a few golden years – coincidentally the years of my undergrad career – Leonard Hall also served as the headquarters of the newly minted Journalism Department.  And that's what made that cinderblock and redbrick building so very special to me and the other J-school pioneers of the late '70s and early '80s.
Leonard Hall became the place where we took our first tentative steps as writers and editors.  Where we learned how journalists needed to understand the law, how governments function and tax and get held accountable for their decisions and actions, and what a glorious and terrifying responsibility that entailed.  It's where we forged friendships and professional associations that continue today.
Plus, it stood next to Wilson Hall, where my girlfriend (now wife of 35-plus years) had most of her classes.  How perfect, for a couple of kids in love!
And now the clock ticks down to the moment when the wrecking ball swings, and that real estate gets converted into an expanded building for the College of Natural Sciences and Mathematics.  It's called progress.  And it hurts.
It's just a building, I know.  It's fallen into some disrepair.  I get it.  The well-established Journalism Department of today resides in a brand-new structure near the Oak Grove housing multiple departments from the College of Humanities and Social Sciences, and that's great.  Our son, in fact, will shortly begin his senior year as an IUP Journalism major, just like his sentimental old man.
But all that doesn't mask the fact that I wish Leonard Hall could have been renovated and saved.  Selfish?  Yeah, a little.  Impractical?  Yeah, a lot.  Emotion will always outweigh intellect, though.
It raises the question: How much progress is too much?  When does a university cross the line in sacrificing its older, historic structures to make way for new construction?  When do those decisions – while important and necessary – cause a campus to lose too much of its personality, its character, its legacy?
Maintaining that balance can be tough, especially when one of your favorite old academic halls gets the ax.  Jane Leonard, the building's namesake, served as one of the university's first leaders.  When she died, the people of the town loved and respected her so much that they lined the streets to watch her casket make its way to the cemetery.
In similar fashion, I'm thinking of taking a spot in the Oak Grove to watch dear old Leonard Hall meet its end, as well.  Progress hurts.  Thanks, Leonard Hall, and goodbye.
Copyright 2017 Timothy P. Hayes