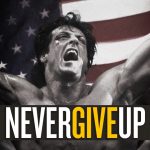 By Tim Hayes
A piece of paper, sent through my printer weeks ago, shows a picture of my favorite movie character, Rocky Balboa, crying out in glorious, star-spangled victory.  The headline next to it reads, "Never Give Up."
We've all heard that admonition at some point in our lives.  British Prime Minister Winston Churchill, in a national radio address during World War II when England stood alone in all of Europe against the advancing and seemingly invincible Third Reich, spurred his countrymen on, saying, "We shall go on to the end, we shall fight in France, we shall fight on the seas and oceans, we shall fight with growing confidence and growing strength in the air, we shall defend our Island, whatever the cost may be, we shall fight on the beaches, we shall fight on the landing grounds, we shall fight in the fields and in the streets, we shall fight in the hills; we shall never surrender."
Japanese artist Masashi Kishimoto once quipped, "You should give up trying to make me give up."  Even baseball legend Babe Ruth got in on the act, saying, "You just can't beat the person who won't give up."
The idea of giving up has been on my mind over the past couple of days, after my beloved Pittsburgh Pirates – who finished the season winning 98 out of 162 games, the second-best record in all of baseball this year – got thoroughly swamped, trampled, and embarrassed by the Chicago Cubs in a one-game elimination showdown.
This was our year to go deep into the playoffs, maybe even get to the World Series.  From Spring Training until the very last out of the regular season, the Bucs played the game with daring, joy, and true and genuine camaraderie.  They were loose, dancing before games in the dugout, smashing shaving cream pies in the faces of late-game heroes on live TV, going all-out through the mercilessly long baseball season.
But in a sudden-death, wild-card game environment – even with tremendous home-field support – they went out with a whimper, bats limp, gloves leaky, pitching poor.  It's 180 or so days until Opening Day rolls around again to start another campaign, six months of no baseball, six months of trying to forget that awful last game and remember the fabulous spirit of the whole season.
It's hard to not give up right now, but I'm reminded of something former Steelers Head Coach Bill Cowher once described in an interview.  He said that he and his wife, who both were athletes at North Carolina State University, made a pact that they could celebrate or sulk for only 24 hours after either a victory or defeat.  They stuck to that agreement, and Cowher both won and lost Super Bowls.
Walking away, shaking the dust from your feet, washing your hands of something, whatever you want to call it – giving up, in other words – can be awfully tempting at times.  And if whatever you're in the middle of truly isn't worth your time, talent, or treasure, it might be the smarter option in the long run.
But, after shivering and shoveling my way through another long, cold, western Pennsylvania winter, I suspect my spirits will be raised – along with that Jolly Roger – when the five sweetest words in the world come around again at the start of Spring Training 2016:  "Pitchers and catchers have reported."
Or, I can let Rocky Balboa say it in his own colorful way: "The world ain't all sunshine and rainbows. It's a very mean and nasty place, and I don't care how tough you are, it will beat you to your knees and keep you there permanently if you let it. You, me, or nobody is gonna hit as hard as life. But it ain't about how hard you hit. It's about how hard you can GET hit and keep moving forward – how much you can take, and keep moving forward. That's how winning is done!"
Wait 'til next year.  Never give up.  Let's Go Bucs.
Copyright 2015 Transverse Park Productions LLC and Tim Hayes Consulting