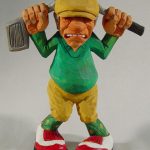 By Tim Hayes
As the small, dimpled sphere rested on the tee, I raised my rented driver, extended my backswing for maximum velocity, brought the club around, felt it make contact, and stared down the fairway, fully anticipating a gorgeous shot down the straightaway.
Then I heard my three friends bust out laughing.
"What happened?  Where did it go?  I think I lost the ball in the air," I insisted.  More laughter.  Then I looked behind me.  Behind me, mind you.  And there was that infernal golf ball.  Then I started laughing.
I must have undercut the ball to such a radical degree (the tee was too high?) that the top of the club put a majorly wicked backspin on it.  As I gazed down the fairway hoping to revel in the majesty of my shot, the ball actually blooped over my head – barely missing my noggin, I later learned – and landed behind me.  The laws of physics be damned!
Such is the relationship between me and the game of golf.
Some of the most important business deals happen on a golf course.  Great friendships have sprung from chance foursome teamings.  What better way to spend a peaceful few hours and maybe even get some exercise?  I used to work at banks, for goodness sakes, so I know the importance of golf outings.
Yet, for me, the magic remains elusive.  I find myself more in line with Mark Twain, who called golf "a good walk spoiled."
About 10 years ago, along with some fellow independent entrepreneurs, the brilliant idea came to us to win unending, cascading waves of new business by golfing more often.  I joined a local league that played 18 holes once a week after work.
Now, who knows?  Was it the fact that everybody else in the league had been playing for years, and I felt intimidated and embarrassed? Was it the self-doubt, self-questioning, and self-loathing coursing through me as I finished the final six holes one evening, alone, cold, soaked, in a driving rainstorm?  Or do I simply stink as a golfer?  I think we all know the answer.  I quit that league after a month.
The realization that I suck doesn't keep me from going out from time to time, don't get me wrong.  But when people ask me if I'm a golfer, my reply is, "No, but I have golfed."  A beautiful set of clubs rests against the wall of my garage.  Every now and then I may head to a driving range and whack away at a couple of buckets.  Yet I can't imagine making phone calls to set up a regular weekend round with a bunch of buddies.  Playing 18 holes of golf feels like a trip to the museum.  You know it's good for you, but you don't need to do it all the time.
Actually, the best time I ever had on a golf course happened last summer, on a municipal course in Phoenix, Arizona, of all places.  My son and I took a guys-only trip out there, to celebrate his high school graduation.  We got a tee time around 11:30 a.m., rented clubs and a cart, bought tees and balls and hats and gloves, and set out together.
For the next three hours, we had an absolute blast, making some awesome tee shots and some real lousy ones.  Hacking away at some holes and just killing others.  All in all, spending a great time together.  And the best part?  We had the entire 18-hole course to ourselves!
As we arrived back at the clubhouse to return our cart and clubs, and head over to the little sandwich shop for lunch, I asked the attendant, "Hey, where is everybody?  I mean, we didn't mind, but we had the whole place to ourselves."
"Sir, are you from around here?" he asked.  "No, we're from Pittsburgh, just out here for a little vacation," I replied.
"Ah, well, that explains it," he said.  "It's the middle of the afternoon, in the middle of the desert.  It's 115 degrees, right now.  That's why nobody else is out there."
I guess that's the secret to my being able to enjoy a round of golf.  Play in stifling mid-day desert heat when no one else is around.
Copyright 2015 Transverse Park Productions LLC and Tim Hayes Consulting