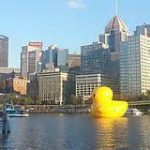 By Tim Hayes
In case you haven't noticed, fellow Pittsburghers, a giant 40-foot rubber duck has been docked in the Allegheny River for more than a week now.  Not sure why.  What is sure, however, is that this enormous floating yellow attraction has become inescapable.
It's all we've heard about for weeks around here.  The giant rubber duck is coming!  The giant rubber duck is coming!
Then it arrived last weekend, inflated upriver and brought down to center stage, near the Point and across from PNC Park – just in time for the Pirates' first playoff game in 20 years, and guaranteed national attention via TBS Sports.
A wire service story described the event as follows: "Studio Florentijn Hofman's The Rubber Duck Project has ignited crazes in Hong Kong, Sydney and other international locales and now makes its U.S. debut in Pittsburgh for the Pittsburgh Cultural Trust's International Festival of Firsts. Yesterday The Rubber Duck Project launched on the Allegheny River, setting in motion four weeks of diverse programming featuring acclaimed international companies and artists premiering works never before seen in the United States. Presentations of theater, dance, music, performance and visual arts will grace several Cultural District venues, in spaces both traditional and highly unexpected."
This old town has been the birthplace of many firsts over the decades.  The Big Mac, the Banana Split, the Ferris Wheel, the nickelodeon theater.  And now a towering rubber duck.
I have no idea who handled the public relations for this project, but whoever they are, they have earned their fee and then some.  Everybody around here became transfixed.  Affixed.  With all common sense nixed.  And for what?
When the duck made its maiden waddle last Friday afternoon, the entire Downtown area suffered gridlock.  Like, nuclear-meltdown gridlock.  Armageddon-get-home-to-your-loved-ones gridlock.  Lincoln Tunnel-at-morning-rush-hour gridlock.  Even the dreaded trying-to-get-home-after-a-Steeler-game gridlock.
One of my kids had to drive a group of college classmates about a mile and half for a service volunteer event the evening of the duck launch, and it took two hours.  They could have walked to their destination and back – twice – and done it faster.  And all because of a big duck sitting in the river.
Why all the fuss?  Why all the attention?  What is it about this rubberized bath toy, writ large, that has caused thousands of people to get near it, pose for photos with it, flock to it?  Why do otherwise sober, rational human beings feel the need to imprint with this mother duck, as though we were fuzzy little newborn ducklings looking for our mommy?
It's been chalked up to the unmet yet Herculean-level yearning for whimsy.  Joy.  Fun.  An escape to something comforting and safe.  An aching need to trigger a touchstone of childhood happiness in a world fraught with leaders in DC playing high-stakes games of "chicken" and wild-eyed maniacs hell-bent on hurting innocent people in every corner of the globe.
And I guess I get that.  Life can suck lemons sometimes.  Occasionally it can feel like it's all you can do to just keep your head down and push on.  When you find a release valve of sunshine and pleasant memories, why not open it all the way?  That must be why I love listening to songs from the '70s on the satellite radio in the car.  Each tune snaps my brain back to some happy moment from high school or college.  Nothing wrong with that.
The riverside novelty has begun to wear off a little by this time.  Maybe I'll take a ride Downtown and take a couple of cell phone selfies with that big ol' duck after all.  Can't let the whimsy tank run low, you know.
Copyright 2013 Tim Hayes Consulting