By Tim Hayes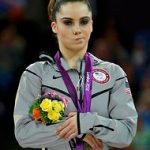 She walked back to the starting point of the vault at the London Olympics, knowing that her first, more complicated and challenging attempt – while technically sufficient – really wasn't her best.  On her second vault, an easier, less taxing one, she'd show 'em.  She'd knock it out of the park and grab that gold medal everyone assumed she'd be flying back to the U.S. with all along.
Thirty seconds later, McKayla Maroney was flat on her rear end, shocked, stunned, as her hopes for gold went crashing to the cushioned surface unexpectedly, inexplicably, beneath her five-foot-two frame.
Hey, that's why they play the game, as they say.  It was a tough way for this Olympian to finish in her trademark gymnastics event.  In the team competition a few nights earlier, Maroney's vault earned raves as the best ever from coaches and even that ubiquitous old bear, Bela Karolyi.
Nobody likes to lose, of course.  But sometimes things just don't go your way.  Years of training, thousands of hours in the gym, performing that vault over and over and over and over until you're doing it in your sleep.  But when all the chips are on the line, something just doesn't go right and you land on your butt.  In Maroney's case, in front of the whole world watching on TV.
So what's the point of all this?  Yeah, she was disappointed.  Actually, more mad at herself than disappointed.  Okay, that's all right.  Everybody understands that and will let you have those self-directed feelings.  In the biggest moment of your 16-year-old life, the bottom fell out and you're supremely not happy about it.
But you still have to be a good sport.
Maroney never walked over to the girl who outperformed her and won the gold medal.  She never approached any of her competitors.  She never smiled.  She never expressed any sense of congratulations, camaraderie, or good sportsmanship.  She just stood there and glowered.  Even on the medal stand, she simply looks pissed off – at herself, certainly, but also at the whole situation.
I can relate to the notion of being embarrassed in front of a roomful of people.  It's happened more times than I care to recall.  The time in grade school when, playing basketball, I ran to the other end of the court and turned my head around just in time to see the ball a foot from my face after being launched from about 50 feet away.  The time when I was the first kid out, in the first round of a citywide spelling bee, making the walk of shame back to my family in the auditorium.  The time when, at a company Christmas function, everyone was asked to take a seat – and did – which left me standing there with no seats left.
The hard part is remembering to slap a smile on your face, take a little dose of self-deprecation, and try to be as gracious about the situation as possible.  It's not easy and it's not intuitive.  But it's the civil thing to do.
Perhaps they should spend more time coaching teenage gymnastics divas about the social graces, too.
Copyright 2012 Tim Hayes Consulting