By Tim Hayes www.timhayesconsulting.com, www.totalprotraining.com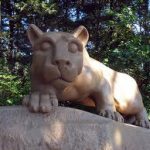 We've been there plenty of times before, but this time had a much different vibe to it.  I'm talking about State College, Pennsylvania, home of The Pennsylvania State University.
And no wonder, seeing that this was the first week following the blistering report from former FBI Director Louis Freeh, citing top officials at Penn State for negligence in not reporting and acting sooner regarding the shameful and heinous acts of convicted child molester Jerry Sandusky.
We arrived the night before a scheduled campus tour, as one of my kids is considering attending Penn State, and made a couple of stops just out of curiosity.  The first was the bronze statue of the late Joe Paterno, who coached the Nittany Lions football team for about six decades and who became the all-time winningest coach in NCAA history – and that includes all sports, not just football.
ESPN and other media outlets had been breathlessly reporting that the controversy of whether to remove the statue (Paterno was one of the officials cited in the Freeh report) had become so heated that police were on 24-hour guard to protect it.  Imagine our surprise, then, as we drove the minivan right up to the curb in front of the statue, with not another soul in sight, police or otherwise.  Media myth debunked.
Next, we drove past the Lasch Football Building, where Sandusky committed many of his crimes against young boys.  There were no cars in the parking lot, and the feeling was one of somber melancholy.  Literally at the scene of the crime.  Considering the trauma and persistent emotional pain that Sandusky's victims still are dealing with, suffice it to say it was a powerful, sobering moment to see where it occurred.
As Dad, I've been through college visits a number of times at various campuses, including the one in Happy Valley, so I knew generally what to expect.  This time, though, the attention of the national media, both news and sports, were riveted to this beautiful, bucolic, yet amazingly advanced university.
So as the next morning began, I decided to fall on my old reportorial skills and make notes on how the student tour guides, alumni support volunteers, department heads, professors, and anyone else affiliated with the university conducted themselves, explained things, and either avoided or addressed the Sandusky fallout.
Penn State has 40,000 students at its main campus alone, so when you register for a campus visit, you have a lot of company.  Registration began at the huge sports arena, as we were greeted, and greeted, and greeted, by a wonderfully energetic team of current students and alumni volunteers.  I have no idea how many of these folks were in service that day, but it had to be in the hundreds, because they were EVERYWHERE. 
We were transported by bus to the student union for the first presentation, and who was there to welcome each of us with a high-five but the Nittany Lion mascot himself.  Once inside the auditorium, an informative slide presentation with music held our attention until the Admissions representative spoke.  But something that I had seen with my two older children during their respective Penn State campus visits had been removed. 
I'm referring to a five-minute video, carefully crafted to play to emotions as well as intellect, that climaxed with an alumna sharing the story of her joining Penn State's Marching "Blue Band" just to have the chance to stand on the field, "three feet from a legend," of course meaning Joe Paterno.  While I knew that video had to be removed, it still made me a little sad somehow.
The representatives of Penn State actually did a very admirable job that day, with the wounds still so fresh and made raw all over again in the days following the Freeh Report.  Their genuine pride in their school – whether still attending classes today or having graduated decades ago – came through clearly and with true sincerity.  When asked about the troubling events on campus, they didn't obfuscate or obliviate, but spoke honestly. 
Obviously, the scandal will be a source of pain and shame for a long time to come, but just as apparent was the fierce determination to prove to the world that the larger constituency of voices that makes up Penn State is still worthy of pride and respect.  It may require a little more courage to pronounce oneself "Penn State Proud" these days, but if our on-campus experience is any measure, it's still there.
Copyright 2012 Tim Hayes Consulting