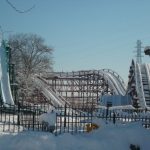 By Tim Hayes [www.timhayesconsulting.com]
At least once each winter, as the cold and the slush and the snow seep into our bones around here, I find myself driving past Kennywood Park – a grand old Pittsburgh amusement park with some of the best roller coasters anywhere. 
Of course, in the dead of winter, nobody's enjoying the rides when they're covered with white.  But there are ways to stay in training for a lightning-fast ride on a great coaster, even when the thermometer dips into the single digits.
On a narrow strip of two-lane blacktop near our house, the road swerves and rolls around a series of hills and curves, but there's one point where – if you gun the gas just right – as you come over the crest of a little hilltop, the road drops out from under the car suddenly, your stomach does a flip and you feel a quick moment of zero gravity, just like on a roller coaster.
Needless to say, I have perfected this little stunt over the years when I have the kids in the car.  We call it "Kennywood Practice."
We did it again just this morning, New Year's Day, and it got me thinking about a fresh way of thinking for 2011.  Why not make Kennywood Practice a habit all year round?  I don't mean swooshing over roadways to simulate riding a roller coaster, but more of a basic resetting of assumptions and attitudes. 
A willingness to try things out of context. 
An embracing of difficult behaviors that can lead to real growth. 
An acceptance that there is indeed a higher power, and that welcoming its grace and direction into our lives can indeed be the best strategy of all. 
An admission that trying to solve everything yourself can be a fool's errand.
A positive step into transitory discomfort with the promise of ultimate growth.
The last thing I want to do is characterize all of this as some kind of New Year's resolution.  Those are "pie-crust promises, easily made and easily broken," to quote Mary Poppins.  Instead, I'm thinking of this as a fundamentally new framework in which to think, live, and act.
Last year introduced me to some wonderful new people and some challenging new ideas about growing business relationships.  Maybe it all added up to too much information to process all at once, and I felt like I didn't make the most of these new concepts and strategies.  But it's a new day today.  I'm getting back in the game with a renewed vigor and focus.
Why not you, too?  The status quo may be working for you, or it may be holding you back.  Either way, things can always improve.  Step out, step up, step forward.  Keep learning, keep trying, keep growing.  With just the right touch on the accelerator, you can feel like you're on a really exciting ride.
Let's each take that ride in 2011.  There's a more positive vibe in the air, can you feel it?  Let's gun the gas a little.  It's time for some Kennywood Practice.
Copyright 2011 Transverse Park Productions LLC