By Tim Hayes [www.timhayesconsulting.com]
One of my heroes has been gone for many years, now.  But I think a lot about him this time of year, as do millions of people around the world.
Before I met him in person, I would have never thought of him as heroic.  I would have never thought of him at all, frankly.  But the context in which we met – and I mean fleetingly, for about 30 minutes, tops – helped to bring the amazing story of his life into sharp relief.  The fact that I was a newspaper reporter covering his return to his small town birthplace made the meeting inevitable.  The fact that his name was Jimmy Stewart made the meeting unforgettable – and one of the big pivot points in my life.
Jimmy had returned to his hometown of Indiana, Pennsylvania, in 1983 to commemorate his 75th birthday.  I worked at the town's newspaper as a general assignment reporter, in my first year of employment after graduating from Indiana University of Pennsylvania.  Naturally, the entire editorial staff had been doing a full-court press on Jimmy's triumphant return for weeks, and when he arrived in May for the three-day weekend blowout, I and my fellow newsroom denizens were kept hustling to capture every moment.
Being a member of the media meant we got some really cool backstage views of things.  We got to see the larger-than-life bronze statue of Jimmy before it was officially unveiled in front of the county courthouse.  We got to stand three feet from Jimmy and his wife, Gloria, as he addressed the thousands of people at the welcoming ceremonies.  And we got to interview him a number of times in various settings – at an air show at the Jimmy Stewart Airport, during the parade where he served as Grand Marshal, and even at a fireman's breakfast to commemorate his father's service as a volunteer firefighter.  In fact, I still have a bootleg photo of Jimmy wearing the chief's helmet that I snapped with my Kodak Instamatic.
But in those few minutes when I was able to talk with him, one-to-one, the real leadership essence of Jimmy Stewart came through immediately and impressively.  This was a man to emulate.  From his humble beginnings in the town that – now with the passage of time feels more and more like Bedford Falls – Jimmy took the principles of faith, hard work, personal responsibility, and loyalty to friends, family, and country with him. 
Beyond being a brilliant actor, he also was a humble student of his craft, a devoted husband and father, and a brave and patriotic American who flew 20 bombing missions into enemy territory during World War II and eventually rose to the rank of Brigadier General in the U.S. Air Force Reserves.  During the 75th Birthday celebration, in fact, he spoke to then-President Ronald Reagan – an old friend from Hollywood – and was treated to a fighter jet flyover down the main street of Indiana.  My ears are still ringing.
Learning of his story, then meeting him and experiencing his gracious manner in person, is something I'll never forget.  As the holiday classic "It's a Wonderful Life" makes its annual reappearance, you can know without a doubt that Jimmy Stewart was not playing a role as George Bailey, he WAS George Bailey.  The bronze statue commemorating his wonderful life – in his pose as George Bailey – is the perfect tribute.
He was a true leader because he knew how to communicate everything important to him, whether on screen, in uniform, or even with a young reporter on his 75th birthday in his old hometown.  And sometimes he even used words.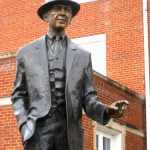 Copyright 2010 Transverse Park Productions LLC