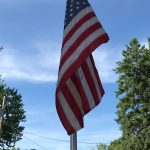 By Tim Hayes
A couple of weeks ago, heavy rains and strong, gusty winds tore through our little corner of the world, blowing window screens into the driveway and snapping the cord that held up our American flag outside the front door.
This past Thursday, June 14, I finally got around to restringing the pole and raising Old Glory once again.  My rationale?  Why, it was Flag Day, of course.
As the grommets got reattached and the cord secured once again, the Stars and Stripes returned to their majestic height.  Normally, such a sight would stir pride and reassurance in my mind and heart about what our flag represents.
But this time, that sensation – while still stirring dimly in the recesses of my mind – had trouble rising much beyond that slow simmer.  And I have my guesses as to why.
Earlier that same day, our hometown newspaper, the Pittsburgh Post-Gazette, fired its editorial cartoonist of the past 25 years, Rob Rogers.  Many surmised the firing stemmed from Rogers' regular criticism of the current administration in Washington.
You might think, well, so what?  People get let go every day.  True enough.  But this person was fired for doing his job.  An editorial cartoonist is not an illustrator, merely there to create images to accompany ideas or thoughts generated by other people.  An editorial cartoonist's sole purpose is to shine a critical, creative, occasionally humorous, but always bright light on issues and personalities affecting the public – no matter who is in office.
Had Rogers' cartoons been withheld from publication in the past?  He told CNN yes, that had happened before.  Usually two or three submissions a year would be pulled for whatever objection or reason, Rogers said.  In 2018, from March through May, though, the newspaper prevented 19 of Rogers' cartoons from publication.  It ran absolutely none in June before showing him the door.
To my mind, such a record so far and so egregiously surpasses any boundaries of taste or discretion, and instead races – careens, smashes, blasts – its way straight into censorship.  Post-Gazette leadership blames the decision on Rogers' unwillingness to submit to edits reflecting changes in the organization's editorial perspective.
If that's the case, then I believe his position is even more justified.  His role is to present his political opinion through satire.  The editorial board of the newspaper runs two or three written editorials every day to state its opinions.  The cartoonist is allotted his space to do the same.
Over a 25-year span, Rogers had taken shots with his pen at Republican and Democratic administrations at the federal, state, and local levels, administering his unique visual style and insightful wit.  No one was immune, which again proves how well he did his job.  One of his regular targets, in fact, Pittsburgh Mayor Bill Peduto, rose to Rogers' defense once the news of his firing had spread.
"This is precisely the time when the constitutionally protected free press – including critics like Rob Rogers – should be celebrated and supported, and not fired for doing their jobs," said the mayor.  "I've known Rob a long time. That has never stopped him from publishing cartoons that are critical of me, of my policy positions, or of my actions (or inactions) in office. He's even made fun of my weight. But he is one of the best in the world at his time-honored craft, and I know people of all political persuasions stand with me in support of him, even if the Pittsburgh Post-Gazette regrettably does not."
The Newspaper Guild of Pittsburgh issued a statement saying, in part, "It appears Rob's only transgression was doing his job – providing satirical comment based on his political views of the world…The public should be assured that PG newsroom employees – 150 reporters, photographers, copy editors, artists, and others represented by the Guild – will continue to produce award-winning, unbiased journalism.  Democracy depends on it.  As we do so, we mourn the fact that the PG editorial pages apparently are no longer the free marketplace of ideas."
And that is the point.  Every day the newspaper dedicates two full pages, with absolutely no advertising, to present what should be an open exchange of viewpoints and opinions.  Left wing, right wing, moderate – all should be welcome, all should be heard.  Whether you agree with another's ideas or not, you have the opportunity to learn and discern for yourself.
Why would an editorial cartoonist's view deserve to be banished from that open exchange?  It doesn't.  It shouldn't.  But here in Pittsburgh, it has been.
Anybody who knows me knows that I believe with all my heart that the First Amendment deserves to be protected and defended against any individual or organization that wants to weaken or alter its clear and definitive declaration safeguarding freedom of the press.  This week, to our community's disservice, it happened here.  Shame on  you, Post-Gazette.  Shame on you – a newspaper, of all things! – for turning your back on press freedom.
I look up at the flag flying once more above my home, and I hang onto the hope that we will eventually find our way back from this darkness.  Maybe by next Flag Day.
And I hope that Rob Rogers makes a million dollars someplace else, where his amazing talent gets the respect it has earned.
Copyright 2018 Timothy P. Hayes