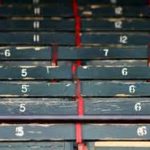 By Tim Hayes
I believe I now understand why no one ever smiles in old colonial or traditional New England Yankee historical photos.
The chairs hurt like hell up there in those olden days.  Trust me, they still do.
On a recent swing through Boston, Cape Cod, and western Massachusetts on vacation, the family and I had a rollicking good time.  So many fascinating landmarks on the Freedom Trail to see up close.  Entertainment and shopping at Faneuil Hall, taking in a Red Sox game at Fenway Park, walking through the amazing Aquarium, drinking in everything at the wonderful JFK Library and Museum, and staying at the historic Parker House Hotel – the oldest continuously operating hotel in the United States, and the place Charles Dickens frequented when he traveled to America – made our experience in Boston simply fantastic.
Then came a day spent walking along the beach at Hyannis, pretending we were Kennedys.  And finally, driving across Massachusetts to Tanglewood, where we enjoyed some great concerts like Yo-Yo Ma and his magic cello, and even a stop at the Norman Rockwell Museum and Studio, where we saw some of the most charming original pieces of American art ever put to canvas.
It's a good thing we had so many great experiences to remember, revel in, and recall.  Because otherwise, the only thing I might remember was how uncomfortable the seats were.
Fenway Park, for instance.  The place went up more than 100 years ago, when baseball fans were not as – ahem – wide, shall we say, as they are today.  Fans back then must have been used to sitting on hard wooden benches for three hours, too.  We took cabs to the game, and one of the drivers told us to leave before the game finished, if we wanted to successfully hail a cab back.  We took his advice and left in the eighth inning with the Red Sox and Seattle Mariners tied.
Thank God we didn't stay the whole game, which went into extra innings and didn't finish for another two hours after we had left.  Had we stayed for the whole game, my derriere might have voted to secede from the rest of my body.  The chairs were that uncomfortable.
The charm of Tanglewood blends performances by some of the world's greatest musicians in an outdoor setting every summer, nestled in the breathtaking beauty of the Berkshire Mountains.  We had purchased tickets ahead of time to enjoy our concerts inside an enormous "shed" to be closer to the performers and to guard against rainy weather.  But, yet again, every seat – every very expensive seat – was either a hard wooden chair like Fenway's, or a wood-slatted park bench.
I even sprung the ten bucks for an official Tanglewood seat cushion, but to no avail.   A half-inch of cheap plastic-covered foam cannot overcome three hours of relentless pine-based punishment to the posterior.  Trying to appreciate the brilliance of Yo-Yo while my behind was screaming "No-No!" became more than a little distracting, let me tell you.  Even the driver's seat in the rental car smarted.
I'm serious, either I'm losing way too much natural padding back there, or I've become quite the pampered prince after crossing the half-century mark a couple of years ago.  Probably a little of both.  All I know is that my gluteus maximus has a big old smile as I sit in my office's comfy executive chair while writing this essay to you.
Would we go back to Massachusetts to vacation again?  You bet, in a heartbeat.  But I'm bringing my own chair next time.
Copyright 2013 Tim Hayes Consulting