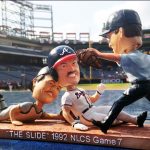 By Tim Hayes www.timhayesconsulting.com www.totalprotraining.com
This can't be for real, I thought, when I first saw it on the Internet today.  But it is.  And I can't figure out whether it's a stroke of marketing genius or a little piece of molded plastic delivered straight from the Gates of Hell.
The Atlanta Braves, at a June 9 game with the visiting Toronto Blue Jays, will hand out to the first 20,000 fans, a miniaturized replica of a baseball play that broke my heart 20 years ago, and from which I have yet to fully recover.
It was the seventh and deciding game of the 1992 National League Championship Series.  My beloved Pittsburgh Pirates had fought and clawed their way out of a three-games-to-none hole against the Braves to tie the series at 3-3.  The winner of this game, played in Atlanta, would go to the World Series.
The Bucs got out to an early lead in the game and held it until the bottom of the ninth inning, when the Braves loaded the bases.  With team owner Ted Turner and his then-wife Jane Fonda in the stands doing that asinine "Tomahawk Chop," a pinch-hitting scrub, a nobody, named Francisco Cabrera lines a shot to shallow left field.  David Justice runs home from third to tie the game, followed by ex-Pirate Sid Bream, who started from second base and, to everyone's shock, rounded third and headed home to try and win the game.
Bream's reckless run to home plate was shocking for two reasons: 1) The Pirates' left fielder was a pre-steroid-suspected Barry Bonds, a pretty damn good ballplayer, who fielded Cabrera's hit and fired the ball toward home; and 2) Sid Bream was on the down side of his career, running on two splintery knees with very little speed.
What happened next…well, I don't like to talk about it, but since I started this thing, I guess I have to finish it now.
Bonds' throw from left field had no zip on it.  Bream's legs did.  Pirates catcher Mike "Spanky" LaValliere reached out to grab the throw, but to do so, he couldn't properly block the plate.  Bream, adrenaline surging to those two gimpy legs of his, slid in feet-first and beat the tag. 
Braves win.  Bucs lose.  And have been losing for 20 years since.
I can remember that moment with amazing clarity.  No one else was awake in my house by that time of night.  We had one toddler not even two years old yet, and a newborn only 10 days old.  My wife was, understandably, exhausted and sound asleep upstairs.  I schlepped up the steps, zombie-like.  Did I even turn off the TV?  Who knows?  Who cares?  Ten minutes ago, we were going to the World Series.  Now, we're going nowhere and two decades later are still on that road.
My thought is that the Pirates should refuse to play any more games in Atlanta.  When the schedule comes out each year, just forfeit those games.  Stay home, be with the kids, catch up on your reading, guys.  The place is bad luck for the Bucs.  Last season, the entire city of Pittsburgh was alive with Bucco Fever, as the team was playing fabulous baseball.  They were even in first place in their division for a few days, which made the front page of the newspaper! 
Then they played in Atlanta.  A marathon 19-inning slugfest that ended with a botched play at home plate where the umpire called a Braves player safe when he clearly had been tagged out.  Georgia is bad karma, I'm telling you.
And it all started on a spooky night in October 1992. Why does that game still haunt Bucco fans like me, even today?  I mean, the Steelers have lost Super Bowls.  The Penguins have lost Stanley Cup finals.  When Villanova's Scotty Reynolds scored the world's easiest lay-up, untouched, in the NCAA Elite Eight to beat Pitt in the final seconds of that basketball game a few years ago, it hurt too.  But nothing like the lingering, festering, open-sore-like pain of Bream beating Bonds' throw in 1992.  Why?
I have a theory.  It's a problem that happens in any walk of life, any industry, any demographic, any geography, anytime or anywhere.  One side relaxed too soon, and the other side pounced on that momentary lapse.  When you come out on top in that situation, there's no better feeling.  But when you're the relaxer?  Let me testify, friends.  The bad taste never, ever, EVER goes away.
And now there's a bobble-head souvenir to rub it in all over again.  Thanks, Atlanta!  Ain't karma a bitch?
Copyright 2012 Tim Hayes Consulting