By Tim Hayes [www.timhayesconsulting.com
The Super Bowl is again upon us and, for once, it's a shame somebody has to lose this game.
Two of the NFL's most legendary and respected franchises, the Pittsburgh Steelers and the Green Bay Packers, will battle it out for the world championship of American football.  But even though one team will feel the thrill of victory and the other the agony of defeat at game's end, it's worth pulling back a bit prior to the competition's start to salute the effort many of those players put forth to make their communities better and brighter.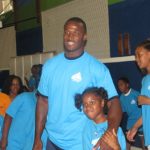 James Jones, Packers wide receiver, for instance, established the Love Jones 4 Kids Foundation, a non-profit community based organization that focuses on the needs of children in the communities of both Green Bay and his hometown of San Jose, California.  The foundation's goal is to enrich the lives of children living in disadvantaged and underserved communities by conducting and sponsoring a variety of programs to help them overcome obstacles, stay in school, and prepare for challenges in life.

Steelers safety Troy Polamalu, quite out of the public eye, actively expresses his faith and spirit of giving that is every bit as powerful as his amazing on-the-field play.  For example, a 10-year-old girl in Pittsburgh recently had surgery to remove part of her lung and three ribs. Now recovering, she continues to share time with her friend Polamalu, who visits her and her family in the hospital as much as he can.  They play Guitar Hero, trade text messages, and before her recent surgery, the All-Pro Steeler sent her an autographed jersey he wore in the first playoff game this year against the Baltimore Ravens.
Jones, Polamalu, and most of their teammates are millionaires, paid enormous sums of money to play a game.  They can live very comfortably and never set foot outside their front doors.  They can ignore the needs of disadvantaged or sick children, or the homeless, or the poor and hungry, or any other segment of the community that needs help.
But they don't.  And that's worth a salute on this Super Bowl Sunday.
The NFL and each of its team franchises recognize the PR value of community programs, naturally, and they each do an amazing job supporting United Way, breast cancer research, and scores of other deserving programs.  But when individual players and coaches go that extra step on their own, taking the time and making the effort to establish programs and do personal outreach, it's super special.  We could all take a lesson from their example. 
The needs are out there.  Are we?
Copyright 2011 Transverse Park Productions LLC